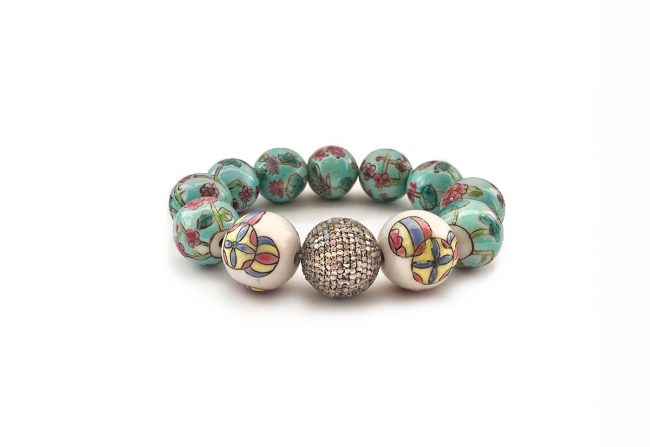 Pave diamond and hand painted porcelain bracelet
Pave diamond and hand painted porcelain bracelet
$425
Please allow 1 – 2 weeks for delivery.
---
Show More
The story:  We fell in love with these hand-painted teal blue and white porcelain beads. And love how each bead is different and unique, making each one truly one-of-a-kind.  Matched with a pave diamond ball, this is a one-of-a-kind bracelet that truly stands out.  We love to wear it with our aquamarine and pave diamond piece.  Each piece 15 mm is slightly different as they are hand-painted. Each bracelet is made separately here in NYC.
Diamond Carat Weight: 1.50 Pave Diamonds
Length:  7 1/2″ but can be customized for your wrist.
Metal: 925 Sterling Silver.
Please allow 1 – 2 weeks for delivery
Healing properties of each stone:
Diamonds: Diamonds have been known for centuries to promote strength, invincibility, courage, creativity, and imagination, help one to feel lighter, more joyful, and more aligned with spirit,  stimulate and open all of the chakras, especially the crown.
Does anyone really need a reason to buy diamonds?
Follow us on Instagram!
Gifted Unique SUGGESTS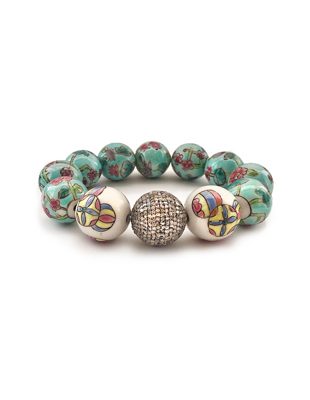 Pave diamond and hand painted porcelain bracelet $425 USD Qty: 1 Code: Gu 12
x