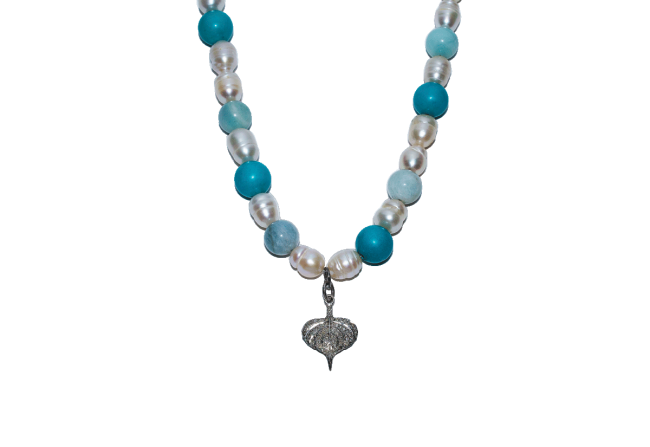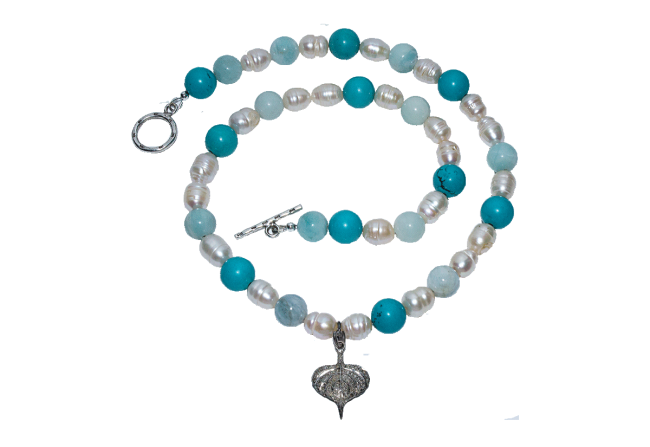 Pearl, diamond and turquoise necklace
Pearl, diamond and turquoise necklace
---
Show More
This is a 19″ hand-crafted necklace combined to incorporate the special energies of each gemstone and is hand-crafted especially by Gifted Unique.  Each piece is slightly different from the other as the stones naturally have different colors and each is made separately here in NYC.
Gemstones: Turquoise, Aquamarine, Pearls
Diamond Carat Weight: 1.50 Pave Diamonds
Length:  19″ but can be customized for your needs
Metal: 925 Sterling Silver.
Please allow 1 – 2 weeks for delivery
Healing properties of each stone:
This turquoise, pearl, aquamarine, and pave diamond necklace is a perfect gift for anyone with stress or who has a job requiring a strong voice.
Turquoise:  is an opaque, blue-to-green mineral that is a hydrated phosphate of copper and aluminum,.It is rare and valuable in finer grades which is what we use. Turquoise is perhaps the oldest stone in man's history, the talisman of kings, shamans, and warriors. It is a stone of protection, and a powerful healing stone strengthening the meridians of the body and subtle energy fields.
Pearls:  Pearls are symbolic of wisdom gained through experience. The gems are believed to offer protection, as well as attract good luck and wealth.
Aquamarine helps overcome the fear of speaking and is an excellent stone for teachers and presenters of all types. It relaxes speakers to a stage of consciousness in which they are fully aware of their own truths, wisdom, and feelings, and able to articulate them with clarity and conviction. It calms,  soothes and cleanses the spirit.
Diamonds: Diamonds have been known for centuries to promote strength, invincibility, courage, creativity, and imagination, help one to feel lighter, more joyful, and more aligned with spirit,  stimulate and open all of the chakras, especially the crown. The leaf is a symbol of renewal.
Gifted Unique SUGGESTS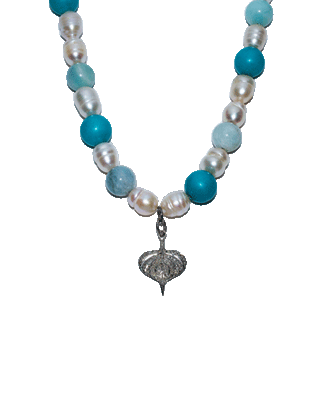 Pearl, diamond and turquoise necklace $725 USD Qty: 1 Code: Gu 16
x