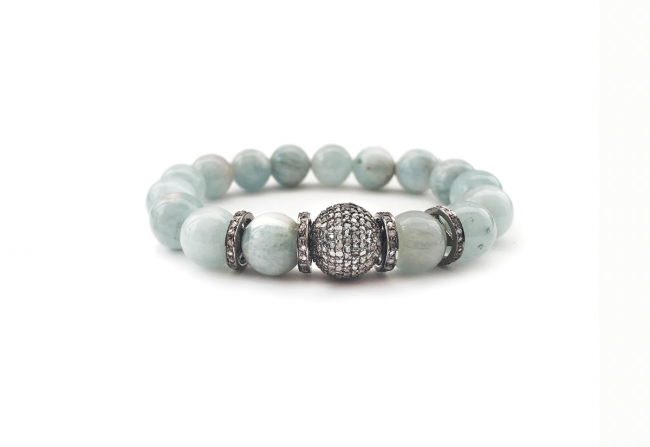 Aquamarine and Diamond Pave Bracelet
Aquamarine and Diamond Pave Bracelet
$625
Please allow 1 – 2 weeks for delivery.
---
Show More
Aquamarine gemstone and pave diamond bracelet hand-crafted especially by Gifted Unique.  Each piece is slightly different from the other as the stones naturally have different colors and each is made separately here in NYC.  We really love the light blue stone when paired with our turquoise bracelet or simple diamond bolo bracelets!
Gemstones: Aquamarine
Diamond Carat Weight: 1.50 Pave Diamonds
Length:  7 1/2″ but can be customized for your wrist
Metal: 925 Sterling Silver.
Please allow 1 – 2 weeks for delivery
Compare
Healing properties of each stone:
Aquamarine: This aquamarine and pave diamond bracelet is a perfect stone for anyone with stress or who has a job requiring a strong voice. Associated with the throat chakra, Aquamarine helps overcome the fear of speaking and is an excellent stone for teachers and presenters of all types. It relaxes speakers to a stage of consciousness in which they are fully aware of their own truths, wisdom, and feelings, and able to articulate them with clarity and conviction. It also allows one to speak clearly and without anger in difficult situations. Aquamarine accelerates the intellectual reasoning processes and enhances the ability for rapid response. It makes one unconquerable through learning, not only about the physical world but about oneself. It bestows perseverance, discipline, and lightheartedness.
Diamonds: Diamonds have been known for centuries to promote strength, invincibility, courage, creativity, and imagination, help one to feel lighter, more joyful, and more aligned with spirit,  stimulate and open all of the chakras, especially the crown.
Does anyone really need a reason to buy diamonds?
Follow us on Instagram!
Gifted Unique SUGGESTS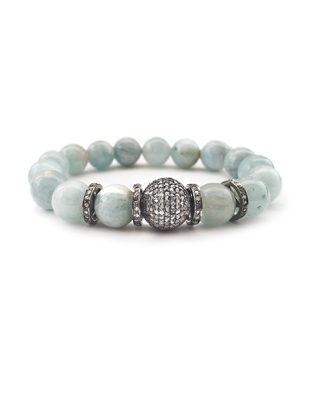 Aquamarine and Diamond Pave Bracelet $625 USD Qty: 1 Code: GU 10
x