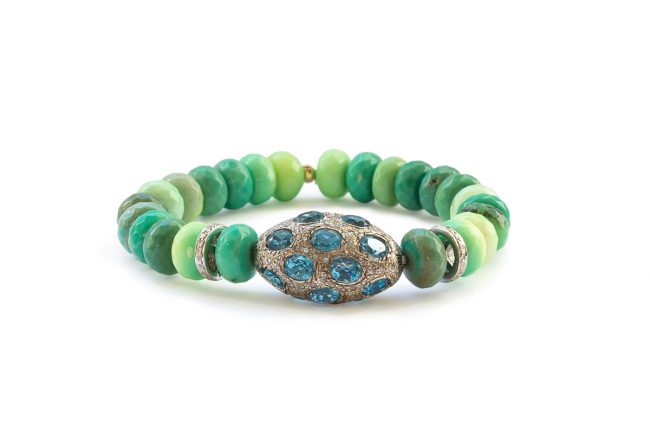 Chrysoprase, topaz and diamond bracelet
Chrysoprase, topaz and diamond bracelet
$525
Please allow 1 – 2 weeks for delivery.
---
Show More
The brilliant green chrysoprase, topaz and diamond bracelet are a perfect combination of color with sparkle with. You won't be able to take your eyes off of it! We can make it on elastic or with a sterling silver clasp.  We will call you when we get your order!
Gemstones: Chrysoprase
Topaz
Diamond Carat Weight: 1.50 Pave Diamonds
Length:  7 1/2″ but can be customized for your wrist
Metal: 925 Sterling Silver.
Please allow 1 – 2 weeks for delivery
Compare to similar designs
Healing properties of each stone:
The Chrysoprase is excellent for people who are dealing with strong emotional issues, and who isn't?
Chrysoprase Known for manifesting optimism, joy, and happiness, the Chrysoprase crystal stone is one of the best antidepressants in the world of crystal healing. If you have a checklist of garden-variety emotional ailments like depression, anxiety, and stress, Chrysoprase crystal properties are an effective prescription for encouraging a more positive outlook on life. Keep this gemstone in your corner and remember to always look on the bright side, even during cloudy weather.
Diamonds: Diamonds have been known for centuries to promote strength, invincibility, courage, creativity, and imagination, help one to feel lighter, more joyful, and more aligned with spirit,  stimulate and open all of the chakras, especially the crown.
Topaz: brings joy, generosity, abundance and good health. It is known as a stone of love and good fortune. Releases tension, inducing relaxation.
Does anyone really need a reason to buy diamonds?
Follow us on Instagram!
Gifted Unique SUGGESTS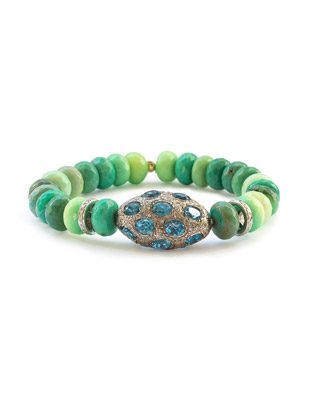 Chrysoprase, topaz and diamond bracelet $525 USD Qty: 1 Code: GU 5
x