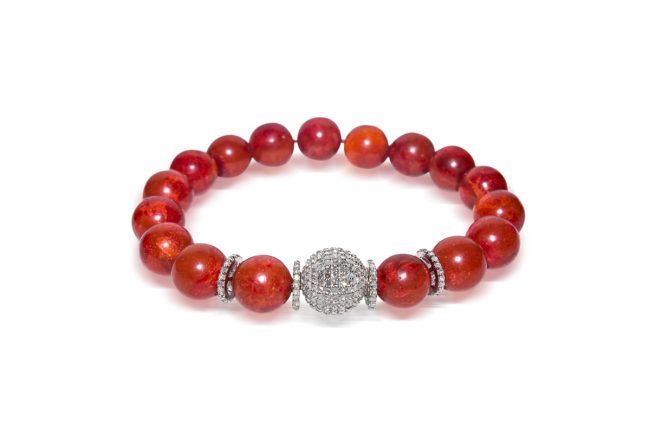 Coral and diamond bracelet
Coral and diamond bracelet
$625
Please allow 1 – 2 weeks for delivery.
---
Show More
This beautiful bright natural coral and diamond bracelet is amazing when combined with summer and fall colors.  Hand-crafted in NYC by Gifted Unique and made to order based on your wrist size.  Comes with 4 diamond pave spacers and one 10MM pave diamond ball.  Can be customized.
Gemstones: Coral
Diamond Carat Weight: 1.50 Pave Diamonds
Length:  7 1/2″ but can be customized for your write.
Metal: 925 Sterling Silver.
Please allow 1 – 2 weeks for delivery
Healing properties of each stone:
Coral: Coral strengthens the circulatory system and the bones of the body.  It stimulates tissue regeneration and nourishes the blood cells.  Treats disorders of the spinal canal, the alimentary canal, the nervous system, and the thalamus. Red Coral stimulates the energetic pursuit of pre-determined goals.  It protects from depression and despondency.
Diamonds: Diamonds have been known for centuries to promote strength, invincibility, courage, creativity, and imagination, help one to feel lighter, more joyful, and more aligned with spirit,  stimulate and open all of the chakras, especially the crown.
Does anyone really need a reason to buy diamonds?
Compare:
Follow us on Instagram!
Gifted Unique SUGGESTS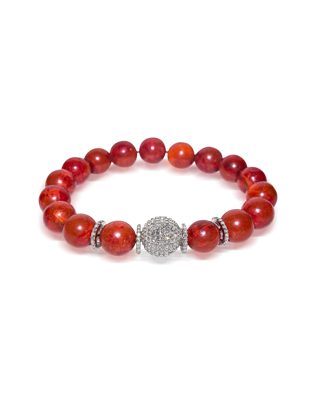 Coral and diamond bracelet $625 USD Qty: 1 Code: GU 8
x