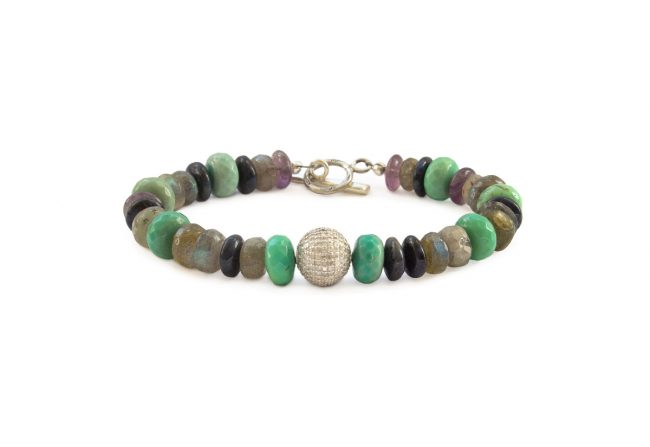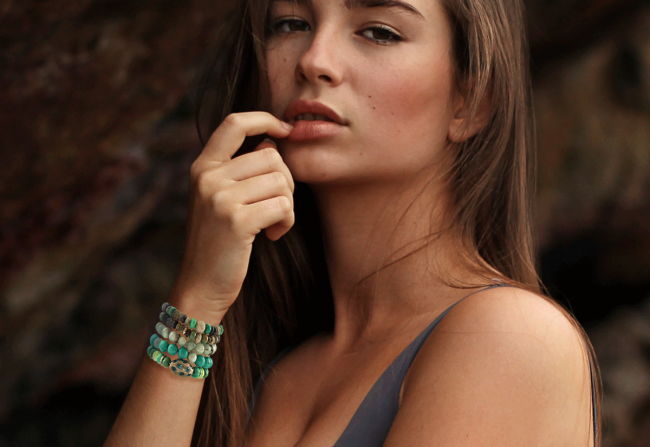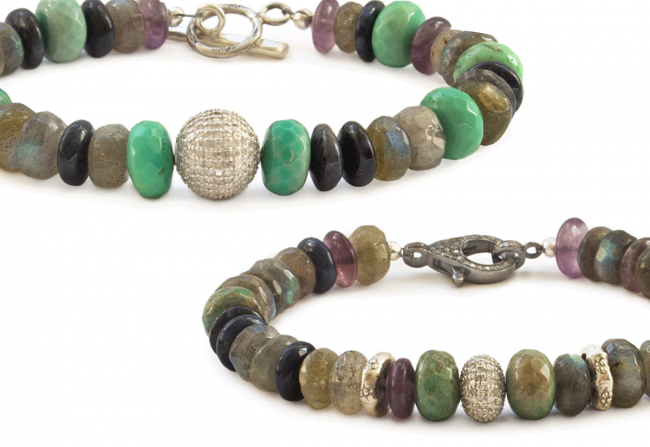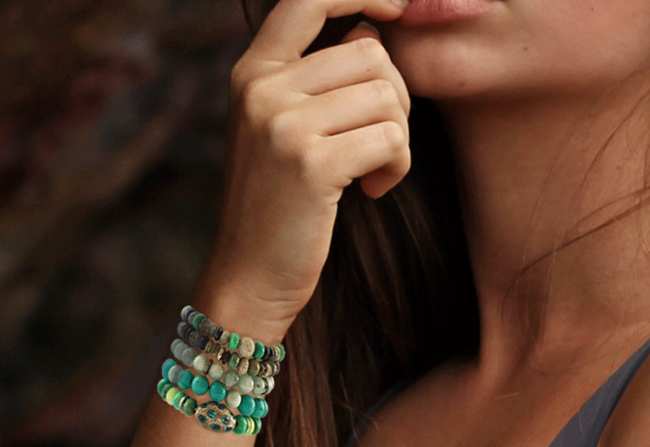 Diamond, labradorite and chrysoprase bracelet
Diamond, labradorite and chrysoprase bracelet
$625
Can take up to 2 weeks for delivery, but rush service is available!
---
Show More
This is a gorgeous diamond, labradorite and chrysoprase bracelet combined together for a purpose in mind.  To make you strong and look stunning in whatever you are wearing.  Wear alone or stack with our other Labradorite bracelets. Each bracelet is hand-crafted by Gifted-Unique and measured to fit your wrist.  The clasp is a pure silver toggle made by the famous Hill Tribe in Thailand. Each piece is slightly different from the other as the stones naturally have different colors and each is made separately here in NYC.
Gemstones:
Labradorite
Chrysoprase
Amethyst
Diamond Carat Weight: 2.2 Pave Diamonds in sterling silver
Length:  7 1/2″ but can be customized for your wrist.
Metal: Hill Tribe Silver
Please allow 1 – 2 weeks for delivery but can be rushed.
Compare:
Healing properties of each stone:
Labradorite:  For self-discovery, it is excellent for awakening one's own awareness of inner spirit, intuition and psychic abilities. Labradorite is also the most powerful protector of the mineral kingdom, creating a shielding force throughout the aura and strengthening natural energies from within.
Chrysoprase: Known for manifesting optimism, joy, and happiness, the Chrysoprase crystal stone is one of the best antidepressants in the world of crystal healing. If you have a checklist of garden-variety emotional ailments like depression, anxiety, and stress, Chrysoprase crystal properties are an effective prescription for encouraging a more positive outlook on life. Keep this gemstone in your corner and remember to always look on the bright side, even during cloudy weather.
Amethyst: Helps with any negativity due to stress and anxiety. Amethyst's healing properties are especially useful in regards to work-related stress because the stone is also associated with abundance; therefore relieving stress while emanating prosperity
Diamonds: Diamonds have been known for centuries to promote strength, invincibility, courage, creativity, and imagination, help one to feel lighter, more joyful, and more aligned with spirit,  stimulate and open all of the chakras, especially the crown.
Does anyone really need a reason to buy diamonds?
Gifted Unique SUGGESTS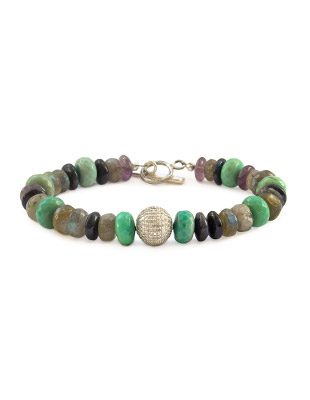 Diamond, labradorite and chrysoprase bracelet $625 USD Qty: 1 Code: GU 1-2
x