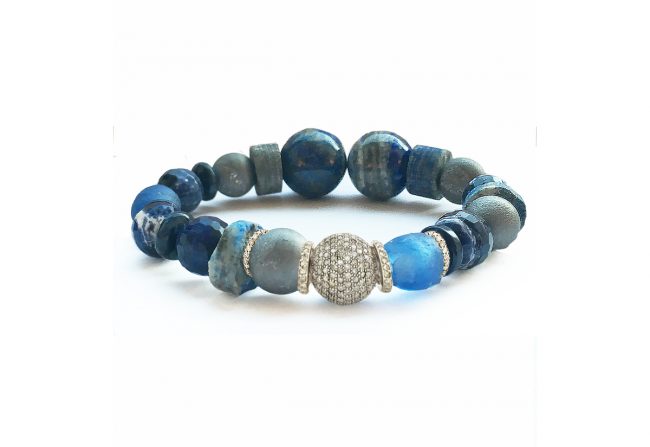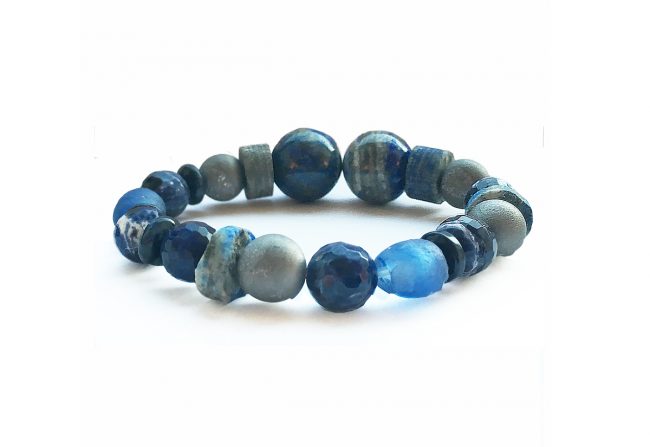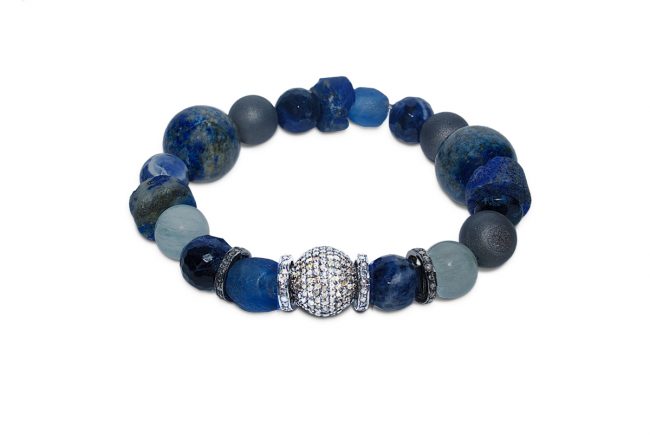 Lapis, gemstone and pave diamond bracelet $625/$375
Lapis, gemstone and pave diamond bracelet $625/$375
---
Show More
This lapis,  gemstone and pave diamond bracelet is hand-crafted especially by Gifted Unique.  Each piece is slightly different from the other as the stones naturally have different shapes and each is made separately here in NYC.
Gemstones: lapis, raw lapis, sodalite, agate, and dumortierite
Recycled ancient glass
Diamond Carat Weight: 1.25 Pave Diamonds
Length:  7 1/2″ but can be customized for your wrist.
Metal: 925 Sterling Silver.
Please allow 1 – 2 weeks for delivery
Compare similar:
Healing properties of each gemstone:
This lapis, diamond and gemstone bracelet has the perfect energy for anyone who is a mom!
Lapis: a powerful crystal for activating the higher mind and enhancing intellectual ability. It is excellent for enhancing memory.
Sodalite: Encourages rational thought, objectivity, truth an, intuition, along with verbalization of feelings. Sodalite brings emotional balance and calms panic attacks. It enhances self-esteem, self-acceptance, and self-trust. Sodalite balances the metabolism boosts the immune system and overcomes calcium deficiencies.
Agate: Agate is a grounding stone that promotes emotional, physical and mental balance.
Dumortierite: a stone of support, as it helps with those who may feel less than confident in thought and idea.  For parents, it is an excellent stone for calm and patience.
Diamonds: Diamonds have been known for centuries to promote strength, invincibility, courage, creativity, and imagination, help one to feel lighter, more joyful, and more aligned with spirit,  stimulate and open all of the chakras, especially the crown.
Does anyone really need a reason to buy diamonds?
Gifted Unique SUGGESTS