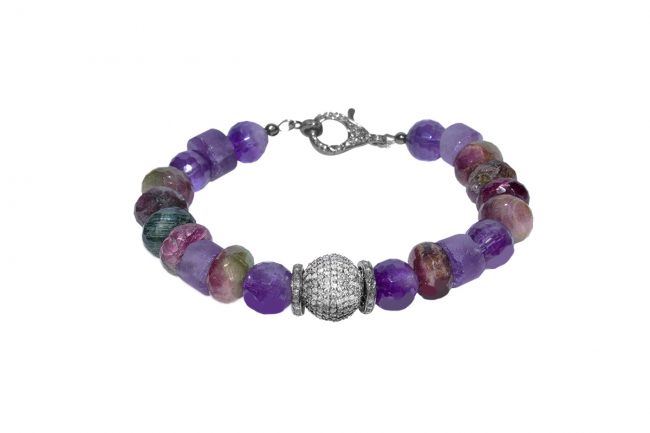 Rainbow Tourmaline, amethyst and diamond bracelet
Rainbow Tourmaline, amethyst and diamond bracelet
$625
Please allow 1 – 2 weeks for delivery.
---
Show More
This rainbow tourmaline, amethyst and diamond bracelet is hand-crafted by Gifted Unique.  Each piece is slightly different from the other as the stones naturally have different colors and each is made separately here in NYC.  The purple stone colors look beautiful worn alone or paired with our other gemstone bracelets.  The bracelet is closed with a beautiful diamond pave lobster clasp.  Designed in loving memory of Naya, a young lady who lost her life too early.  10% of all proceeds from this bracelet will go to No More Kids with Cancer
Gemstones: Rainbow Tourmaline and amethyst
Diamond Carat Weight: 1.50 Pave Diamonds
Length:  7 1/2″ but can be customized for your wrist.
Metal: 925 Sterling Silver.
Please allow 1 – 2 weeks for delivery
Healing properties of each stone:
Tourmaline: Tourmaline attracts inspiration, compassion, tolerance, and prosperity.  It balances the right-left sides of the brain. Tourmaline releases tension, making it helpful for spinal adjustments.  It balances male-female energy within the body.
Amethyst: Helps with any negativity due to stress and anxiety. Amethyst's healing properties are especially useful in regards to work-related stress because the stone is also associated with abundance; therefore relieving stress while emanating prosperity
Diamonds: Diamonds have been known for centuries to promote strength, invincibility, courage, creativity, and imagination, help one to feel lighter, more joyful, and more aligned with spirit,  stimulate and open all of the chakras, especially the crown.
Does anyone really need a reason to buy diamonds?
Follow us on Instagram!
Gifted Unique SUGGESTS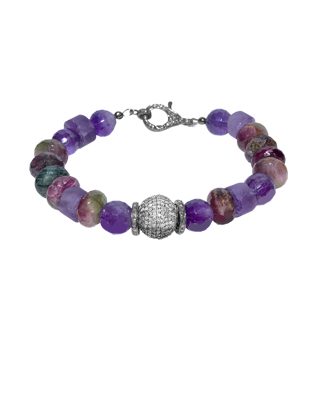 Rainbow Tourmaline, amethyst and diamond bracelet $625 USD Qty: 1 Code: GU 13
x