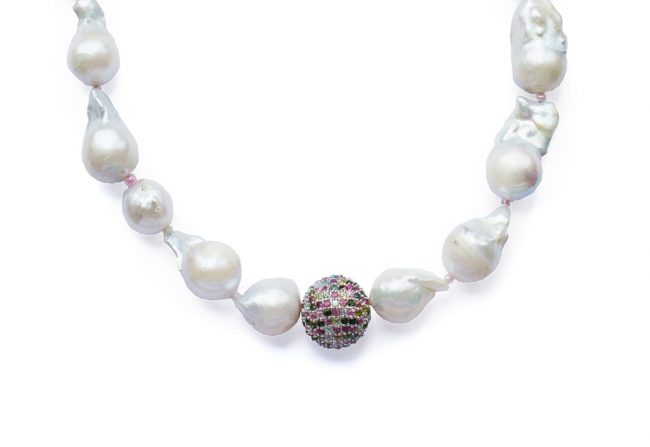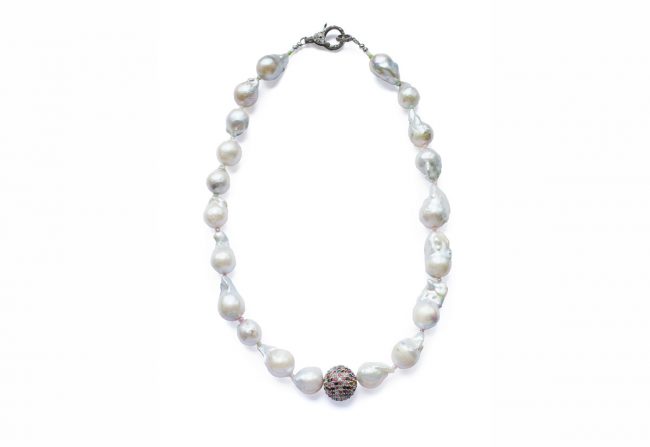 Baroque pearl and rainbow tourmaline necklace
Baroque pearl and rainbow tourmaline necklace
---
Show More
This baroque pearl and rainbow tourmaline necklace is a new twist on your grandmother's pearls.  Stunning 15 mm baroque pearls with tiny pink African trade bead a  unique finish to everyday or evening looks. This enchanting piece is hand-crafted in New York City and comes with a .25 carat lobster clasp and a gorgeous 16 mm rainbow tourmaline ball.   This  18″ Baroque pearl and rainbow tourmaline necklace is a special gift that every woman should have in their collection and is worn as a choker. Please let us know if you would like a longer necklace, as we custom design each piece.  Masterfully crafted yet so simple, this necklace is combined to incorporate the special energies of each gemstone
Gemstones: Rainbow Tourmaline
Pave Diamond
Baroque Pearls
Length:  18″ but can be customized for your needs
Metal: 925 Sterling Silver.
Please allow 1 – 2 weeks for delivery, but can be rush ordered.
Compare similar items:
Healing properties of each stone:
Pearls:  Pearls are symbolic of wisdom gained through experience. The gems are believed to offer protection, as well as attract good luck and wealth.
Rainbow Tourmaline: In countries from India to Australia, tourmaline has been thought to be able to protect and heal. Specific colors of tourmaline are thought to have their own special properties:
Diamonds: Diamonds have been known for centuries to promote strength, invincibility, courage, creativity, and imagination, help one to feel lighter, more joyful, and more aligned with spirit,  stimulate and open all of the chakras, especially the crown.
Gifted Unique SUGGESTS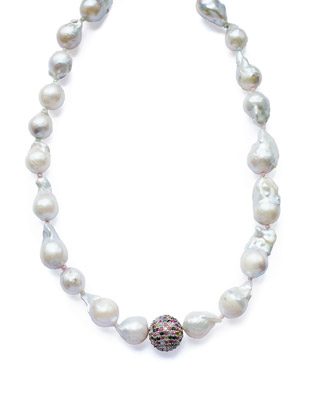 Baroque pearl and rainbow tourmaline necklace $825 USD Qty: 1 Code: Gu 17-1
x