Diamond, and onyx necklace
Diamond, and onyx necklace
$625
Can take up to 2 weeks for delivery, but rush service is available!
---
Show More
Diamond and onyx necklace made for him but don't be surprised if she steals it from you!  Comes with a unique rose cut diamond ball and pave diamonds.
Gemstones:
Diamonds: 1.35 carats
Onyx
Length: 18″
Metal: Hill Tribe solid silver.
Please allow 1 – 2 weeks for delivery
Compare:
Healing properties of each stone:
Onyx: A powerful protection stone, Black Onyx absorbs and transforms negative energy, and helps to prevent the drain of personal energy.
Diamonds: Diamonds have been known for centuries to promote strength, invincibility, courage, creativity, and imagination, help one to feel lighter, more joyful, and more aligned with spirit,  stimulate and open all of the chakras, especially the crown.
Does anyone really need a reason to buy diamonds?
Gifted Unique SUGGESTS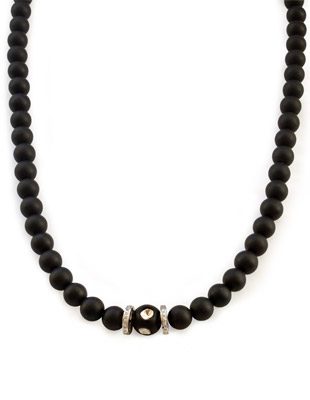 Diamond, and onyx necklace $625 USD Qty: 1 Code: GU 20
x