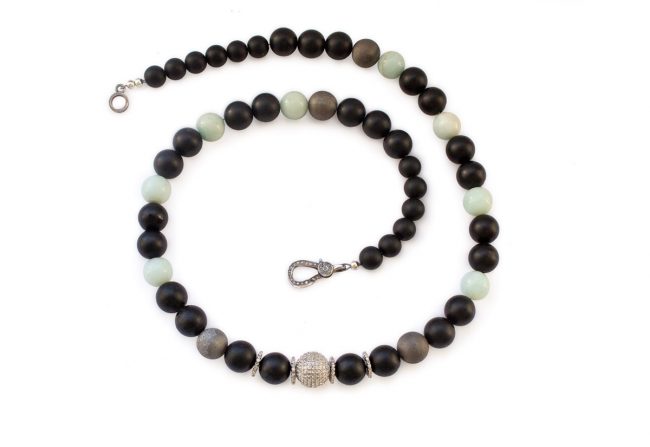 Diamond, onyx, aquamarine and agate necklace
Diamond, onyx, aquamarine and agate necklace
$850
Can take up to 2 weeks for delivery, but rush service is available!
---
Show More
This diamond, onyx, aquamarine and agate necklace comes with 2.4 carats of pave diamonds — including the pave ball and pave spacers. Topped off with a pave diamond lobster clasp it is 22.5″ to flatter any neck.  Wear it with your LBD or a casual tee shirt.  Goes anywhere with you!
Gemstones:
Diamonds: 2.4 carats
Onyx
Aquamarine
Agate
Length: 22.5″
Metal: 925 Sterling Silver.
Please allow 1 – 2 weeks for delivery
Compare:
Healing properties of each stone:
Onyx: A powerful protection stone, Black Onyx absorbs and transforms negative energy, and helps to prevent the drain of personal energy.
Aquamarine: This aquamarine and pave diamond bracelet is a perfect stone for anyone with stress or who has a job requiring a strong voice. Associated with the throat chakra, Aquamarine helps overcome the fear of speaking and is an excellent stone for teachers and presenters of all types. It relaxes speakers to a stage of consciousness in which they are fully aware of their own truths, wisdom, and feelings, and able to articulate them with clarity and conviction.
Agate enhances mental function, improving concentration, perception and analytical abilities. It soothes and calms, healing inner anger or tension and creates a sense of security and safety.
Diamonds: Diamonds have been known for centuries to promote strength, invincibility, courage, creativity, and imagination, help one to feel lighter, more joyful, and more aligned with spirit,  stimulate and open all of the chakras, especially the crown.
Does anyone really need a reason to buy diamonds?
Gifted Unique SUGGESTS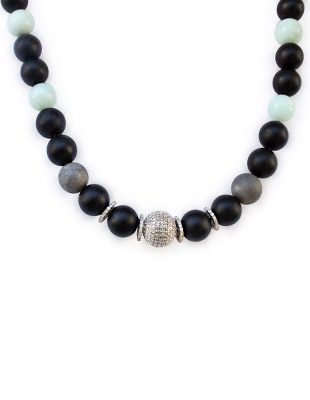 Diamond, onyx, aquamarine and agate necklace $850 USD Qty: 1 Code: GU 2-1-1
x