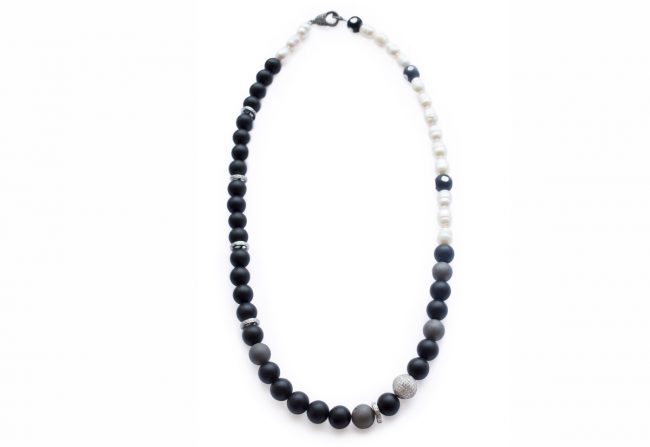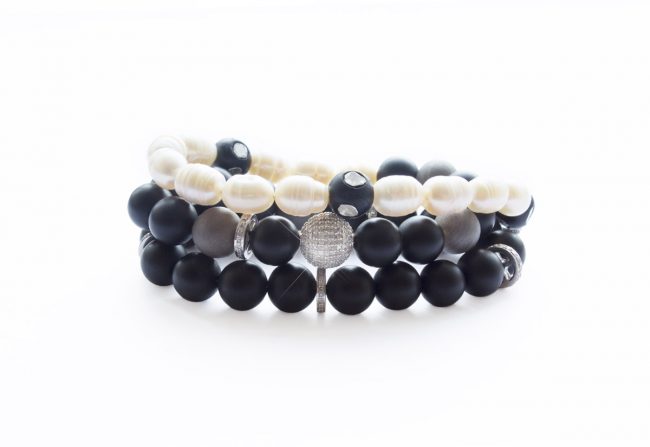 Diamond, onyx, pearl, agate necklace
Diamond, onyx, pearl, agate necklace
$1250
Can take up to 2 weeks for delivery, but rush service is available!
---
Show More
This Diamond, onyx, pearl, agate necklace can be worn as a bracelet too — a gorgeous medley of onyx, pearl, and agate loaded with 4 carats of different types of diamonds — from spacers to diamond balls to rose cut in black beads.  Topped off with a pave diamond lobster clasp.  Can also be worn as a 19″ necklace.  I love it so much I might not part with it.   This bracelet wraps three times around your wrist showing the different layers of diamonds, onyx, pearl and agate bracelet design.  The necklace is an asymmetrical cluster of diamonds, pearls and onyx
Gemstones:
Diamonds: 4 carats
Onyx
Pearls
Agate
Length: 19″ for triple twist
Metal: 925 Sterling Silver.
Please allow 1 – 2 weeks for delivery
Compare Similar:
Mikimoto
Healing properties of each stone:
Onyx: A powerful protection stone, Black Onyx absorbs and transforms negative energy, and helps to prevent the drain of personal energy.
Pearls:  Pearls are symbolic of wisdom gained through experience. The gems are believed to offer protection, as well as attract good luck and wealth.
Agate enhances mental function, improving concentration, perception and analytical abilities. It soothes and calms, healing inner anger or tension and creates a sense of security and safety.
Diamonds: Diamonds have been known for centuries to promote strength, invincibility, courage, creativity, and imagination, help one to feel lighter, more joyful, and more aligned with spirit,  stimulate and open all of the chakras, especially the crown.
Does anyone really need a reason to buy diamonds?
Gifted Unique SUGGESTS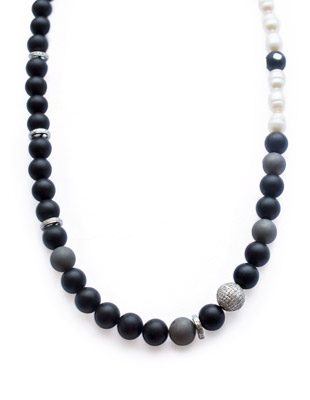 Diamond, onyx, pearl, agate necklace $1250 USD Qty: 1 Code: GU 2-1
x